Telford Georges: A Legal Odyssey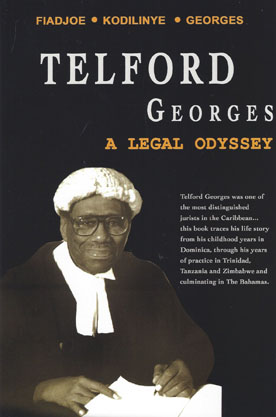 ISBN13: 9789768167507
Published: November 2008
Publisher: Caribbean Law Publishing Company
Country of Publication: Jamaica
Format: Paperback
Price: £20.95

Telford Georges was one of the most distinguished jurists the Caribbean region has produced. Renowned throughout the Caribbean and beyond for his erudition, his mastery of the language and techniques of legal reasoning and, above all, his integrity and total independence from political influences, Telford Georges was in much demand as a Chairman of Commissions of Enquiry and, at a more informal level, as a public speaker on important legal issues.
This book traces his life story from the childhood years in Dominica, through the years of practice in Trinidad, followed by the Tanzania and Zimbabwe years, and culminating in The Bahamas period. Transcribed conversations with Telford are included, in which the reader is given many fascinating insights into the judicial though processes and George's views on a number of controversial issues.
Some of Telford George's most significant judgements dealing with a wide variety of legal issues in both public and private law areas, which stand as a major contribution to Caribbean jurisprudence are included. Finally, the book presents a selection of George's addresses and lecturers on various topics of interest not only to lawyers but also to the wider publics.