Constitutionalism in Asia: Cases and Materials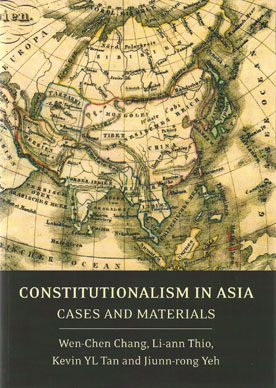 ISBN13: 9781849462341
Published: February 2014
Publisher: Hart Publishing
Country of Publication: UK
Format: Paperback
Price: £59.99

Despatched in 8 to 10 days.
This book is a collection of judiciously selected constitutional law materials from Asia designed for scholars and students of constitutional law and comparative constitutional law. The book is divided into 11 chapters, arranged thematically around key ideas and controversies, enabling the reader to work through the major facets of constitutionalism in the region.
The book begins with a lengthy introduction that critically examines the study of constitutional orders in 'Asia', highlighting the histories, colonial influences, and cultural particularities extant in the region. This chapter serves both as a provisional orientation towards the major constitutional developments seen in Asia - both unique and shared with other regions - and as a guide to the controversies encountered in the study of constitutional law in Asia.
Each of the following chapters is framed by an introductory essay setting out the issues and succinctly highlighting critical perspectives and themes. The approach is one of 'challenge and response', whereby questions of constitutional importance are posed and the reader is then led, by engaging with primary and secondary materials, through how the various Asian states respond to these questions and challenges.
Chapter segments are accompanied by notes, comments and questions to facilitate critical and comparative analysis, as well as recommendations for further reading.