Contemporary Personalities with 30 Cartoons by MATT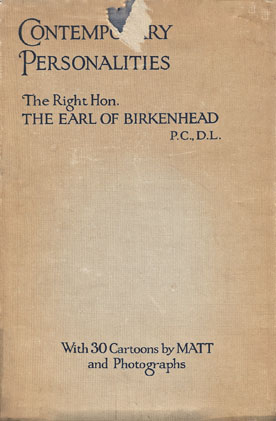 ISBN13: 004204
ISBN: 004204
Published: November 1924
Publisher: Cassell and Company, Ltd
Country of Publication: UK
Format: Hardback
Price: £15.00
(Second Hand)

In this notewothy book Lord Birkenhead depicts in a series of brilliant essays - graphic, convincing and illuminating - the famous personalities with whom he has been, often intimately, associated.
Very few men have played a more prominent part in the Imperial affairs of the last decade than the talented author, both in public and in more secret negotiations. His readers are thus enabled to get a fuller appreciation of the calibre and real character of those whose lives, in their several ways, have been devoted to the services of their country during the last quarter of a century.

PREFACE
To write a series of contemporary sketches must always be a matter of delicacy and of difficulty. I can hardly expect to have surmounted all the difficulties, or to have avoided all the indelicacies of this task.
But I have made an honest attempt in dealing with men nearly all of whom have been well known to me to give a sincere and unprejudiced view of their special qualities and of the part which they have played in the pregnant years from which I hope, without being confident, that we are about to emerge.
I have attempted to discharge my pen from excessive eulogy; and it has not I believe incurred the charge of malice. BIRKENHEAD
CHARLTON,
NORTHANTS, September, 1924