Shipping and Transport International: Subscription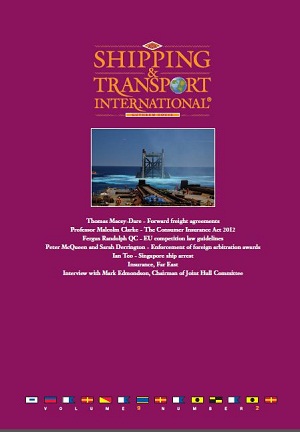 ISSN: 1751-9896
Publisher: Guthrum House Ltd.
Country of Publication: UK
Format: Journal
Price: £339.00

Subscription Type: Annual Subscription
Domestic Renewal Price: £339.00
Overseas Renewal Price: £359.00
Shipping & Transport International is the highly regarded publication for transport lawyers (whether based in a law firm, in-house or student) and for all professionals in the shipping industry requiring a reliable resource that they will wish to retain long-term. The quarterly publication provides the legal and regulatory information needed by all senior people in the maritime world.
Shipping & Transport International's practical articles are succinct, clearly written and understandable at first read and its top contributors are from both the academic and commercial world. Cases notes (with commentaries) are included from Volume 9 No 4. It has also been a feature for many years to include articles on scientific and technical issues, in clear user-friendly language.