Simon's First-tier Tax Decisions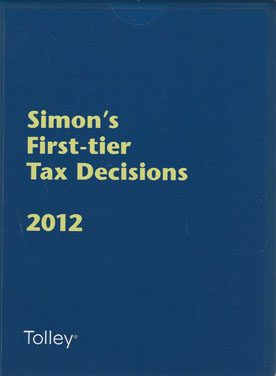 ISSN: 2040-4115
Latest Release: February 13, 2017
Publisher: LexisNexis Butterworths
Country of Publication: UK
Format: Law Reports + Bound Volume
Price: £621.00

Subscription Type: Annual Subscription
Domestic Renewal Price: £621.00
Overseas Renewal Price: £621.00
Despatched in 6 to 8 days.
Previously known as Simon's Special Commissioners Decisions
Simon's First-tier Tax Decisions (SFTD) is the only full text series of law reports of selected decisions from the Tax Chamber of the First-tier Tribunal. (Reports of tax decisions from the Upper Tribunal, which are equivalent to judgements of the Hight Court, are reported in Simon's Tax Cases.) SFTD aims to report the most significant direct and indirect tax decisions given by the tribunal, as soon as possible after the decision has been released.
Each case report contains catchwords outlining the issue in the case, a headnote summarising the facts and point of law decided and cross-references to encyclopaedic works such as Simon's Taxes, De Voil Indirect Tax Service and Halsbury's Laws. References are also included to where any relevant legislation can be found in the Yellow or Orange Books and, where appropriate, indicating any subsqequent amendment or repeal of those provisions. In additional, all statutory and case references and quotes are checked for accuracy.
Reports are issued in monthly parts punched for insertion in the SFTD 'permanent binder'. Each quarter, an index supplement will be issued, which will provide a complete guide to the cases reported and statutory provisions considered during the course of the year. At the end of the year subscribers will be sent a 'transfer binder', into which the loose parts for that year should be filed, thus freeing up the permanent binder for the following year's cases. In March, subscribers will receive a bound volumes (replacing the loose parts), in which all the cases for the preceding year are republished, as well as a separate cumulative tables and index, containing tabes and a subject index to all the volumes of SFTD published so far. Each bound volume retains the pagination of the loose parts, so that page references to cases will remain valid. Subscribers should note that occasionally amendments are made to the report that appeared in the loose part before publication in the bound volume; in that event, the bound volume is definitive.