The Great Trials of Clarence Darrow: The Landmark Cases of Leopold and Loeb, John T. Scopes and Ossian Sweet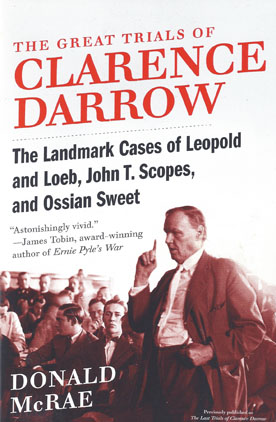 ISBN13: 9780061161506
Published: May 2010
Publisher: Harper Perennial
Country of Publication: USA
Format: Paperback
Price: Out of print

Out of Print
One of the most famous, if controversial, lawyers in America, defense attorney Clarence Darrow was sixty-seven years old in 1924. His reputation was in tatters after a scandalous trial in Los Angeles and his life and career appeared almost over.
Then, in rapid succession, he found himself at the forefront of three remarkable courtroom dramas. Each was dubbed "the Trial of the Century" by the press: the trial of teenage Chicago "thrill killers" Nathan Leopold and Richard Loeb; Tennessee's infamous Scopes Monkey Trial, later immortalized in the play Inherit the Wind; and the incendiary case of Ossian Sweet, an African American man accused of murder while defending his Detroit home against a white mob.
In The Great Trials of Clarence Darrow award-winning author Donald McRae re-creates these momentous courtroom battles with breathtaking vividness-and offers a compelling, intimate, and unforgettable portrait of a true American icon.