The Framers' Coup: The Making of the United States Constitution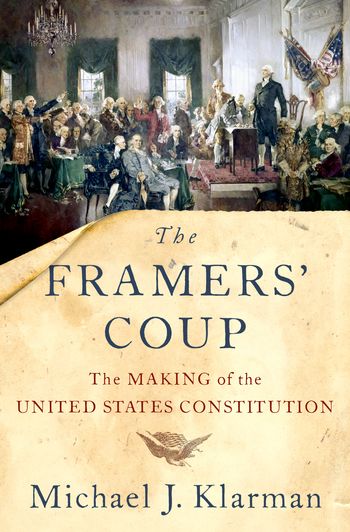 ISBN13: 9780190865962
Published: September 2018
Publisher: Oxford University Press USA
Country of Publication: USA
Format: Paperback (Hardback in 2016)
Price: £16.99

Despatched in 8 to 10 days.
Most Americans revere their Constitution yet know relatively little about its origins. Indeed, until now, nobody has written a comprehensive history of the Constitution's making. Based on prodigious research and told largely through participants' voices, Michael J. Klarman's The Framers' Coup: The Making of the United States Constitution fills that void.
Klarman's narrative features colorful characters and riveting stories, such as the rebellion by debtor farmers in Massachusetts that contributed enormously to the Constitution's creation, George Washington's agonized deliberations over whether to attend the Philadelphia convention, Patrick Henry's demagogic efforts to defeat ratification in Virginia, and the political machinations of Alexander Hamilton and John Jay at the New York ratifying convention that produced an improbable victory for ratification. Three principal themes characterize Klarman's narrative. The first is contingency. The Philadelphia convention almost did not take place; once assembled, it nearly failed; and the Constitution it produced almost went unratified. Second, the Constitution was more a product of ordinary political struggle than of disinterested political philosophizing. Creditors and debtors, city dwellers and backcountry farmers, northerners and southerners-all had competing interests and fought for them with the weapons of ordinary politics, such as the disparaging of adversaries' motives, character assassination, and even threats of violence. Finally, the Framers wrote a Constitution very different from what most Americans anticipated or wanted. Many of its features were designed to insulate the national government from populist political influence. Why was the Philadelphia convention so unrepresentative of national opinion, and how did the Framers convince ordinary Americans to approve a scheme that drastically reduced their political influence? For anyone interested in a comprehensive, lively, and provocative account of the making of the American Constitution, this is the ideal volume.