The Oxford Companion to American Law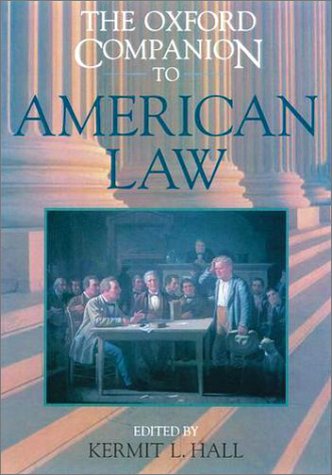 ISBN13: 9780195088786
ISBN: 0195088786
Published: July 2003
Publisher: Oxford University Press
Country of Publication: USA
Format: Hardback
Price: £56.00

Usually despatched in 1 to 3 weeks.
This Companion offers a one-volume, alphabetically arranged, encyclopedia introducing the main lines of American law, from the institutions, people, events, and cases to the doctrines and concepts. Produced under the editorship of a board of five noted scholars, headed by Kermit L. Hall, it comprises of approximately 500 entries, each written by an expert in the field.

The book targets a broad and diverse audience, one that ranges from students studying comparative (including American) law to lawyers or judges actively involved in the practice of law. In subject matter the books deals with the development of positive, common, and constitutional law in the US (as well as arbitration, mediation, and alternative dispute resolution), and the related institutions that support them. The Companion, stresses concepts more than cases and people as primary subjects, preferring, except for the most iconic cases and the most storied figures of American law, to discuss each within conceptual entries. Although many of the entries must of necessity address technical matters the Companion does not seek to provide a technical analysis of the law, either as a matter of history or current practice.

The Companion also goes down some of the lesser known by-ways of American law, such as the role of civil, canon, and international law, avenues that the editor believes are essential for a full exploration of the subject. The Companion takes as its starting point the idea that law is embedded in society, and that to understand American law one must necessarily ask questions about the relationship between it and the social order, now and in the past. The volume assumes that American law, in all its richness and complexity, cannot be understood in isolation, as simply the business of the Supreme Court, or as a list of common law doctrines. Hence, the volume takes seriously issues involving law's role in structuring decisions about governance, the significance of state and local law and legal institutions, and the place of American law in a comparative international perspective. The hope is that such an approach, when coupled with the strong law-and-society emphasis, will make the volume genuinely distinctive, readily accessible to students and professionals, and provide for a meaningful contribution to the literature of American law in its own right.