Proportionality Principles in American Law: Controlling Excessive Government Actions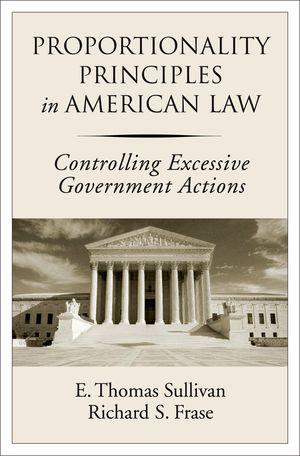 ISBN13: 9780195324938
Published: January 2009
Publisher: Oxford University Press
Country of Publication: USA
Format: Hardback
Price: £29.99

From the ancient origins of Just War doctrine to contemporary theories of punishment, concepts of proportionality have long been an instrumental part of the rule of law and an essential check on government power. The American legal system, despite frequent, though unacknowledged, use of proportionality principles, has not developed a general theory of proportionality.
In Proportionality Principles in American Law, two renowned legal scholars seek to advance such a theory. They argue that standards of review should be more clearly and precisely defined, and that in most circumstances every intrusive government measure which limits or threatens individual rights should undergo some degree of proportionality review.
Surveying the longstanding use of proportionality principles as well as examples from foreign and international law, E. Thomas Sullivan and Richard Frase identify three basic ways that government measures and private remedies have been found to be disproportionate: relative to fault; relative to alternative means of achieving the same practical purposes; and relative to the likely practical benefits of the measure or remedy.
Using this framework, the book examines the origins and contemporary uses of proportionality principles in public law, civil liberties, and the criminal justice system, emphasizing the utility of proportionality principles to guide judicial review of excessive government measures.
Seeking to categorize and harmonize a variety of judicial review standards and their underlying proportionality concepts, Proportionality Principles in American Law will help lawyers, judges, and legislators more consistently, and more effectively, apply proportionality principles and thus help American courts better serve their vital roles as guardians of individual rights and liberties.