Innovation for the 21st Century: Harnessing the Power of Intellectual Property and Antitrust Law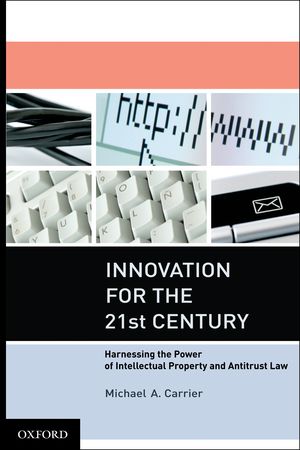 ISBN13: 9780195342581
Published: April 2009
Publisher: Oxford University Press
Country of Publication: USA
Format: Hardback
Price: £58.00

Despatched in 5 to 7 days.
On their broadest level, the IP and antitrust laws aim to increase societal welfare. But they do so in different ways. The foundation of the IP system is the right to exclude. This right allows inventors to recover their investment costs and to obtain profits. Relatedly, it discourages "free riders" who imitate the invention and - because they have no investment costs to recover - undercut the price. The right to exclude, in short, is designed to increase innovation. The very exclusion at the heart of IP nonetheless might seem suspicious to antitrust, which focuses on harms to competition. The antitrust laws presume that competition leads to lower prices, higher output, and more innovation. They anticipate that certain agreements between competitors or conduct by monopolists prevents consumers from enjoying these benefits.
Innovation in the 21st Century: Harnessing the Power of Intellectual Property and Antitrust Law contends that intellectual property and antitrust, the two most important laws fostering innovation, are not being used most effectively to achieve this goal and offers various proposals that individually and collectively remedy this deficiency.