Judgment Calls: Principle and Politics in Constitutional Law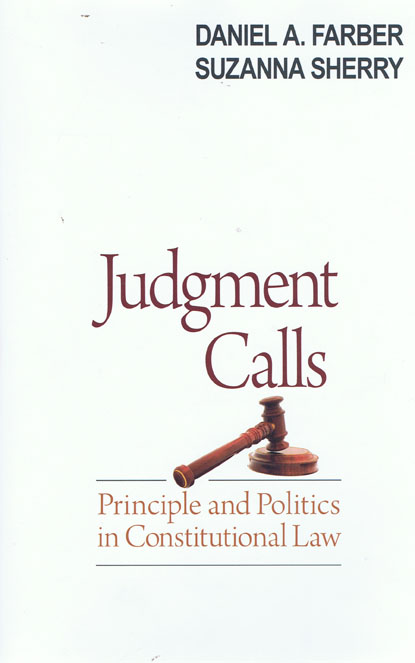 ISBN13: 9780195371208
Published: February 2009
Publisher: Oxford University Press
Country of Publication: USA
Format: Hardback
Price: £25.49

Despatched in 5 to 7 days.
Judgment Calls tackles one of the most important and controversial legal questions in contemporary America: How should judges interpret the Constitution? Our Constitution contains a great deal of language that is vague, broad, or ambiguous, making its meaning uncertain. Many people believe this uncertainty allows judges too much discretion. They suggest that constitutional adjudication is just politics in disguise, and that judges are legislators in robes who read the Constitution in accordance with their own political views.
Some think that political decision making by judges is inevitable, and others think it can be restrained by "strict constructionist" theories like textualism or originalism. But at bottom, both sorts of thinkers believe that judging has to be either tightly constrained and inflexible or purely political and unfettered: There is, they argue, no middle ground.
Farber and Sherry disagree, and in this book they describe and defend that middle ground. They show how judging can be--and often is--both principled and flexible. In other words, they attempt to reconcile the democratic rule of law with the recognition that judges have discretion. They explain how judicial discretion can be exercised responsibly, describe the existing constraints that guide and cabin such discretion, and suggest improvements.
In exploring how constitutional adjudication works in practice (and how it can be made better), Farber and Sherry cover a wide range of topics that are relevant to their thesis and also independently important, including judicial opinion-writing, the use of precedent, the judicial selection process, the structure of the American judiciary, and the nature of legal education.
They conclude with a careful look at how the Supreme Court has treated three of the most significant and sensitive constitutional issues: terrorism, abortion, and affirmative action. Timely, trenchant, and carefully argued, Judgment Calls is a welcome addition to the literature on the intersection of constitutional interpretation and American politics.