Expedited Corporate Debt Restructuring in the EU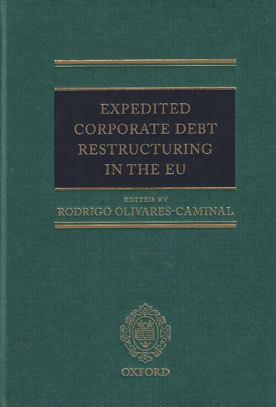 ISBN13: 9780198706502
Published: July 2015
Publisher: Oxford University Press
Country of Publication: UK
Format: Hardback
Price: £225.00

This is the first book to provide a complete comparative analysis of expedited corporate debt restructuring alternatives in the European Union.
The work considers the different options available to a company facing a distress scenario and focuses on the options that provide expedited solutions to these issues. The techniques considered in full include: (1) out-of-court reorganization or (non-insolvency process-related) private workouts; (2) pre-packaged reorganization plans; and, (3) pre-arranged or pre-negotiated reorganization plans.
The merits and suitability of each technique are considered and case studies are used to illustrate these points in each chapter.
A considerable feature of the work is the jurisdiction analysis which allows the reader to compare the law and practice related to each method in each of the EU member states. Each country chapter sets out the relevant legal framework, illustrates its practical application and highlights potential problems through the use of case studies.
The aim of the book is to work as a toolkit, a first point of reference for anyone dealing with companies in distress in the EU. In addition to the jurisdictional analysis, the thematic chapter provide an introduction to the techniques discussed and cover common issues for all EU jurisdictions.