The Dual State: A Contribution to the Theory of Dictatorship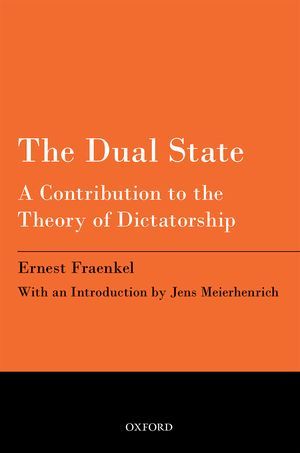 ISBN13: 9780198716204
Published: April 2017
Publisher: Oxford University Press
Country of Publication: UK
Format: Paperback
Price: £39.99

The Dual State, first published in 1941, remains one of the most erudite books on the legal origins of democracy and dictatorship. It provided the first comprehensive analysis of the rise and nature of National Socialism, and was the only such analysis written from within Hitler's Germany.
Fraenkel's concept of the dual state, being the normative state (which protects the legal order as expressed in legislation, decisions of the courts, and decisions of administrative bodies) and the the prerogative state (governed by the ruling party). It retains its vital relevance for the theory of democracy in the twenty-first century.
The Dual State considerably influenced scholars studying and working on questions of political justice in the period following World War II, particularly in the context of political and legal theory; in the domain of legal history; in the area of constitutional theory; in the context of comparative politics; and in what has become known as the field of comparative constitutional law.
This republication of Fraenkel's classic work makes it once again widely available to scholars and students in the field. It includes both Fraenkel's 1974 introduction to the German second edition, never before published in English, and a new introduction by Dr Jens Meierhenrich, examining the world in which The Dual State was originally published, and the lasting legacy of this classic work.