Textbook on Land Law 16th ed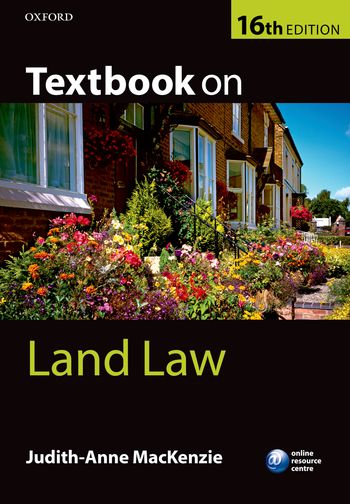 ISBN13: 9780198748373
Published: September 2016
Publisher: Oxford University Press
Country of Publication: UK
Format: Paperback
Price: £31.99

Practical and contextual in its approach, lucid and engaging in style, Textbook on Land Law enlivens the subject for students.
The innovative running case study illustrates the law in action, helping students to visualize the real life applications of the law and demystify abstract concepts. Additional examples, extracts, diagrams, and sample documents contribute to the building blocks of a clear framework, enabling students to gain a solid, pragmatic understanding of essential principles.
Academic details on key topics are explained straightforwardly for an accessible learning experience. A glossary of key land law terminology is included at the end of the book for ease of reference, while end-of-chapter reading suggestions support further research and exam preparation.
This textbook is also accompanied by an Online Resource Centre which includes advice on approaching land law problems, additional topics for further study, and updates to the law.
New to this Edition:-
Impact of the Infrastructure Act 2015 on fracking and the 'down to the centre of the earth' doctrine and Bocardo SA v Star Energy UK Onshore Ltd [2010]
The shift of responsibility for local land charges from local authorities to the Land Registry
Possible changes to human rights legislation and McDonald v Mcdonald [2015] on horizontal effect
Southern Pacific Mortgages Ltd v Scott [2015] and overriding interests
R (Best) v Chief Land Registrar [2015], on the impact of criminalization of some forms of trespass on title by adverse possession
Capehorn v Harris [2015] and the risk of eliding the two stage process in Stack v Dowden
Barnes v Phillips [2015], on the variation of rights in co-ownership
Regency Villas Title Ltd v Diamond Resorts (Europe) Ltd [2015], on whether sporting and recreational rights can constitute an easement
The Law Commission's final report on Rights to Light and the report on Conservation Covenants