Textbook on Land Law 15th ed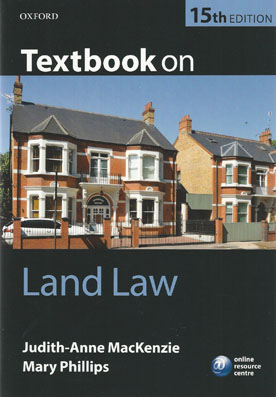 ISBN13: 9780199685639
Published: July 2014
Publisher: Oxford University Press
Country of Publication: UK
Format: Paperback
Price: Out of print

Trusted by students for over 25 years, this popular book continues to provide an interesting, accessible, and original account of contemporary land law.
The 15th edition builds upon this unique and straightforward approach, ensuring Textbook on Land Law remains the ultimate practical land law text for students. Using a fictional case study to illustrate the key principles of land law, the authors clearly demonstrate the real-life applications of this often abstract subject, while clarifying complex areas and common points of confusion.
Further examples, sample documents and extracts all provide valuable context and help readers to fully understand how the law works in practice.
Known for its clear and direct writing style, the 15th edition continues to combine academic detail with student-friendly explanations and provides wide-ranging coverage of key land law topics in a compact and easy-to-use format. A glossary of essential land law terminology is included at the end of the book for ease of reference, while end-of-chapter reading suggestions support further research and exam preparation.
This textbook is also accompanied by a free Online Resource Centre which includes advice on approaching land law problems, plus additional topics for further study and updates to the law post-publication. An interview with the authors is also provided, discussing their thoughts on the development of land law and their experiences of the subject, including study and career advice.