Carriage of Goods by Sea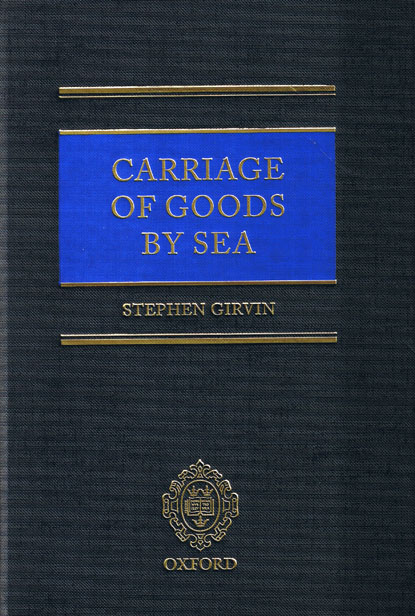 ISBN13: 9780198764588
Published: January 2007
Publisher: Oxford University Press
Country of Publication: UK
Format: Hardback
Price: Out of print

Carriage of Goods by Sea contains contains a lucid analysis of the law on the subject written primarily from the perspective of English law but with reference to cases in other major commonwealth countries.
Introductory chapters cover topics such as the business of carriage as well as the underlying principles (contract, agency, tort, and bailment) and of frustration. This book includes an analysis of the bill of lading and other documents of carriage (including sea waybills and delivery orders). The book focuses on international carriage measures, such as the Hague, the Hague-Visby, and the Hamburg Rules and discusses current developments towards uniformity. The author includes shippers' obligations, the obligations of the carrier, and the rights and immunities of the carrier and there is full coverage of the main issues in charterparties: voyage (including problems of laytime and demurrage); time; and demise. Uniquely the book also covers an analysis of cargo claims.
This book will fill an important gap in the existing literature on the subject. It will be one of a small number of one volume texts covering the subject in its entirety, with the added benefit of being fully up-to-date and appealing both to a practitioner and a student audience. Coverage includes all the traditional topics, such as bills of lading and charterparties (voyage, time, and demise), and focuses also on each of the international conventions regulating the subject. Additionally, the content of the book extends to such issues as limitation, admiralty claims (in the cargo context), and a brief discussion of maritime arbitration. Although written from the perspective of English law, a particular feature is the extensive cross-referencing to (and analysis of) the law in other major common law jurisdictions (especially Australasia, Malaysia and Singapore, Hong Kong, and South Africa).
Aimed at practitioners, law students and professionals in the industry, the author provides a full and detailed coverage of the main principles in a user-friendly and accessible format.
Comprehensive scope including underlying principles to documents of carriage, international regulation and the responsibilities and obligations of the skipper and carrier
Contains a unique coverage of cargo claims including limitation periods, damages and arbitration
Draws together principles from key UK and Commonwealth cases in one volume
Accessible, logically laid out text with clear paragraphs and frequent headings, to assist in ease of locating and understanding the material