Contract Theory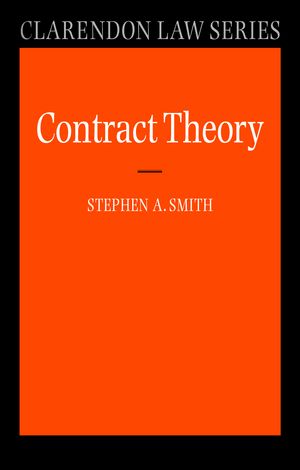 ISBN13: 9780198765615
ISBN: 0198765614
Published: March 2004
Publisher: Oxford University Press
Country of Publication: UK
Format: Paperback
Price: £33.99

This book is both an examination of, and a contribution to, our understanding of the theoretical foundations of the common law of contract.
Focusing on contemporary debates in contract theory, Contract Theory aims to help readers better understand the nature and justification of the general idea of contractual obligation, as well as the nature and justification of the particular rules that make up the law of contract.
The book is in three parts. Part I introduces the idea of 'contract theory', and presents a framework for identifying, classifying, and evaluating contract theories. Part II describes and evaluates the most important general theories of contract; examples include promissory theories, reliance-based theories, and economic theories. In Part III, the theoretical issues raised by the various specific doctrines that make up the law of contract (e.g., offer and acceptance, consideration, mistake, remedies, etc.) are examined in separate chapters.
The legal focus of the book is the common law of the United Kingdom, but the theoretical literature discussed is international in origin; the arguments discussed are thus relevant to understanding the law of other common law jurisdictions.