The WTO Agreement on Safeguards: A Commentary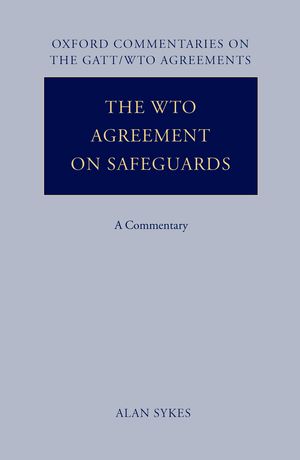 ISBN13: 9780199277407
ISBN: 0199277400
Published: September 2006
Publisher: Oxford University Press
Country of Publication: UK
Format: Hardback
Price: £132.50

Despatched in 7 to 9 days.
This book provides a thorough treatment of the legal, economic, and policy issues associated with safeguard measures in the WTO system. It includes a careful treatment of the history of safeguard measures under GATT, and the impetus for the Agreement on Safeguards during the Uruguay Round. It reviews the economic arguments for and against safeguard measures, including the modern political economy account of safeguards and nullescape clausesnull in international agreements.
Subsequent chapters focus on the key legal issues associated with the use of safeguards, including the procedural requirements, the obligation to demonstrate unforeseen developments and increased imports, the concept of nullserious injury,null the puzzling causation test, and limitations on the scope of safeguard measures including non-discrimination principles. All of the safeguard decisions within the WTO dispute system are thoroughly dissected and analysed. Included as appendices are the relevant treaty text and the pertinent national legislation of the United States and European Union.