Employment Law and Human Rights 2nd ed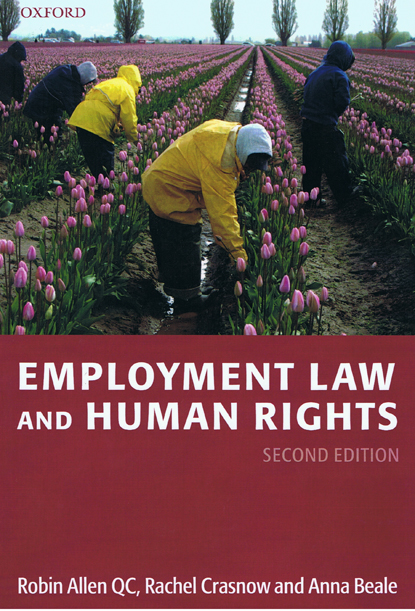 ISBN13: 9780199299638
Published: August 2007
Publisher: Oxford University Press
Country of Publication: UK
Format: Paperback
Price: Out of print

This new edition of Employment Law and Human Rights brings practitioners up to date with the continuing practical impact of the Human Rights Act 1998 in the employment field. Human rights issues have become increasingly prevalent in employment cases, and significant new equality legislation has been introduced. A thorough understanding of the area is now vital for the serious employment lawyer.
The text considers in detail all aspects of the European Convention of Human Rights in an employment context, with a particular focus on areas which have developed most rapidly in recent years. It looks at the complex regulatory framework surrounding privacy at work, data protection and internet access, and the various new surveillance regulations, and considers these in the light of the UK's Convention obligations. It also considers in depth the overlap between the implications of the Human Rights Act and the new equality laws relating to religion and belief, sexual orientation, and age, in addition to issues arising from existing discrimination legislation.
The book marries expert commentary on the background legal themes with comprehensive practical guidance on current law and procedure, including the controversial topic of public funding. Throughout the book ECtHR jurisprudence is considered and cross referred to domestic case law, and each chapter contains a 'Frequently Asked Questions' section to assist the busy practitioner.
Written in a clear and accessible style, and designed for ease of reference, the book is essential for solicitors and barristers specializing in employment law, employment law advisers, Employment Tribunal chairmen, and human resources officers.
Acts as a first point of reference for human rights issues in employment law
Includes detailed coverage of the new equality laws relating to religion and belief, sexual orientation, and age
Provides a systematic survey of the Convention rights that apply to employment cases, and details all relevant legal developments, including ECtHR and domestic case law
Marries practical guidance with analysis of the background legal themes from a leading author team
Each chapter contains a 'Frequently Asked Questions' section to ensure quick access to key information