Article 370: A Constitutional History of Jammu and Kashmir OIP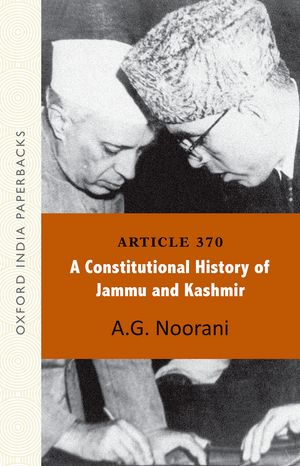 ISBN13: 9780199455263
Published: January 2015
Publisher: Oxford University Press India
Country of Publication: India
Format: Paperback
Price: £16.99

Usually despatched in 1 to 3 weeks.
This book is a collection of documents on Article 370 of the Constitution of India, which contains provisions related to the state of Jammu & Kashmir.
It provides new insights on the negotiations preceding its enactment, the significance of the Article, and the constitutional evolution of the State and its relationship with the Union of India from 1946 to 2010. A wide range of letters, memorandums, white papers, proclamations, and amendments throw light on provisions/discussions on areas like Jammu & Kashmir's accession to India; Kashmir-Union negotiations from May-October 1949; Jammu & Kashmir's Constituent Assembly, 1951-2; Delhi Agreement, 1952; Post-Delhi Agreement, 1952; Sheikh Abdullah's arrest; the Constitution of Jammu & Kashmir; replacement of Sadar-i-Riyasat; the process of erosion of Article 370, and autonomy of the State.
The author also discusses the Supreme Court judgments on this article and constitutional arrangement. This volume will be important for scholars and students of Indian politics and history. Diplomats, policymakers, and government officials will also find it useful.