Redundancy: Law and Practice 3rd ed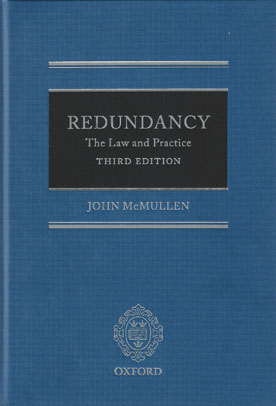 ISBN13: 9780199544172
Published: July 2011
Publisher: Oxford University Press
Country of Publication: UK
Format: Hardback
Price: £107.50

Redundancy: The Law and Practice explores redundancy law from a practical standpoint. Containing sections on redundancy payments, unfair dismissal, and collective redundancies, as well as a number of practical tools, the book is an invaluable resource for practitioners working in the area.
Now in its third edition, the book has been fully revised and extended to accommodate the extensive changes in legislation that have been implemented since the publication of the second edition in 2001. It considers the effect of the statutory disciplinary, dismissal and grievance procedures in redundancy dismissals following the Employment Act 2002, along with the impact of the Information and Consultation of Employees Regulations 2004, and the Employment Equality (Age) Regulations 2006.
It analyses the wealth of recent case law, particularly with reference to the changes to employer obligations arising from the decision in UK Coal Mining Ltd v NUM & BACM [2007] (EAT) and the new rules on collective consultation following Junk v Kühnel and Susie Radin Ltd v GMB .
Including extensive appendices, charts, specimen letters and forms, Redundancy: The Law and Practice is an invaluable reference for any practitioner working in the area of employment law.
Provides a comprehensive and practical working guide to redundancy written by a leading employment specialist
Offers analysis of significant recent cases such as UK Coal Mining Ltd v NUM & BACM [2007] (EAT), which holds that consultation about reasons for closure is necessary
Considers the impact on redundancy of the statutory disciplinary, dismissal and grievance procedures following the Employment Act 2002 and the Employment Act 2002 (Dispute Resolutions) Regulations 2004, as well as the Employment Equality (Age) Regulations 2006
Provides coverage of the new rules on collective redundancies following the ECJ decision in Junk v Kühnel and the effect of the Collective Redundancies (Amendment) Regulations 2006
Discusses the effect of the new legislation on criteria for selection for redundancies; the effect of length of service methodology for selecting employees for redundancy; the possibility of indirect age discrimination; and the interaction between retirement and redundancy under the regulations
Offers extensive appendices such as charts, specimen letters and forms