Corporate Internal Investigations: An International Guide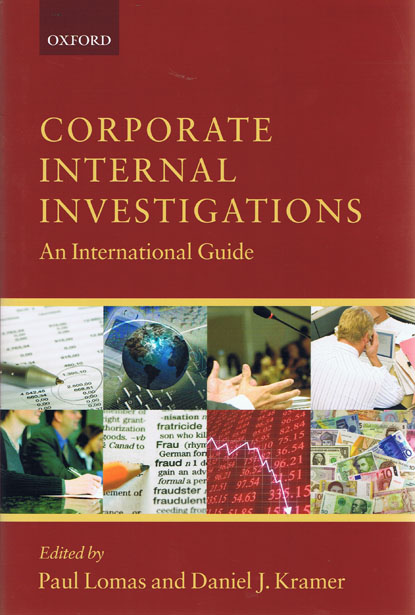 ISBN13: 9780199554119
Published: September 2008
Publisher: Oxford University Press
Country of Publication: UK
Format: Hardback
Price: Out of print

In today's complex world, the potential for corporate malpractice and the severity of its consequences are increasing. The regulators have accumulated more powers and the public have continually growing expectations of management behaviour. Consequently, Board members are concerned more than ever with ensuring good corporate governance.
Corporate Internal Investigation: An International Guide addresses the way in which a company conducts an effective internal investigation in order to manage its legal risks and demonstrate good governance as well as providing practical guidance about interacting with regulators and reassuring employees and the wider public.
Edited by Daniel Kramer, a leading US trial lawyer and litigator with extensive experience in internal investigations, and Paul Lomas, a leading UK practitioner who has acted in a number of corporate governance crises, this work provides a unique cross-border approach. The work explores trends within USA, UK, Hong Kong, Japan, France, Spain, Germany, Italy and The Netherlands, on a country-by-country basis, identifying the key regulators that operate in these jurisdictions and the range of responses that are effective in complying with potential or actual regulatory inquiries.
The book deals with the way executives conduct an effective internal investigation. It also provides insights into the subtle differences in the legal environments of the various jurisdictions that can critically impact the conduct of an investigation. In effect, it outlines the fundamental steps and considerations required to respond to regulatory bodies in a manner that minimises risks and benefits the company in all the jurisdictions in which it operates.
Examines issues specific to individual jurisdictions with coverage of the USA, UK, Hong Kong, Japan, France, Spain, Germany, Italy and the Netherlands
Includes a chapter drawing together the aspects relevant to cross-border investigations common to all jurisdictions
Draws upon the know-how and experience of leading practitioners in the field
Checklists provide plans for managing internal investigations covering all aspects from disclosure obligations to managing publicity