Intellectual Property in Government Contracts: Protecting and Enforcing IP at the State and Federal Level 2nd ed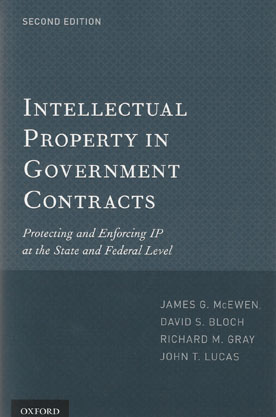 ISBN13: 9780199751112
Published: July 2012
Publisher: Oxford University Press USA
Country of Publication: USA
Format: Paperback
Price: Out of print

State and national governments often meet their technologically-intensive needs by entering into contracts and financing deals with private companies. These contracts, and the complex rules that accompany them, have elevated the risk of intellectual property loss for private-sector contractors.
Intellectual Property in Government Contracts, Second Edition provides a comprehensive appraisal of United States federal procurement laws relating to Intellectual Property, plus a detailed survey of state procurement rules and a comparison of the approaches adopted by the European Union and other industrialized countries.
It provides strategic guidance for the protection of IP in government contracts, and the various ways to enforce IP rights in the event of government violation. Written by knowledgeable and highly-experienced professionals in the field, this book offers detailed advice and commentary concerning strategies, opportunities, and traps for the unwary.
This book assists attorneys on both sides of the equation to approach government deals with the dual objectives to maximize the tremendous upside potential while protecting IP rights. This Second Edition has been comprehensively updated, rewritten, and revised to reflect new developments in federal intellectual property and procurement law over the last 3 years. It includes considerably expanded coverage of civilian agencies.