How Policy Shapes Politics: Rights, Courts, Litigation, and the Struggle Over Injury Compensation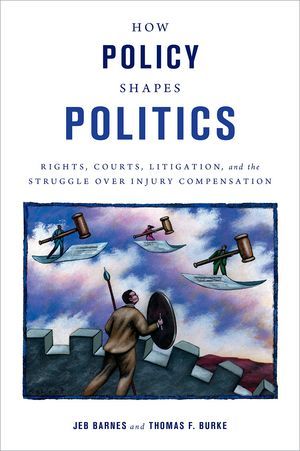 ISBN13: 9780199756117
Published: January 2015
Publisher: Oxford University Press
Country of Publication: USA
Format: Hardback
Price: £31.99

The 'global rise of judicial power' has been called one of the most significant developments in late twentieth and early twenty-first century politics.
In this book, Jeb Barnes and Thomas F. Burke examine the political consequences of the growing reliance on courts and litigation in public policy by analyzing the field of injury compensation, in which judicialized and bureaucratized programs operate side-by-side. Their study mixes quantitative data on a wide range of injury compensation policies with three in-depth case historical studies in which they trace political struggles over Social Security Disability Insurance, asbestos injury litigation, and the obscure but fascinating controversy over injuries purportedly caused by vaccines.
They conclude that while social insurance programs that compensate for injury tend to bring social interests together, the use of litigation divides interests between victims and villains, winners and losers and so creates a comparatively fractious, chaotic politics.