F.E.Smith: First Earl of Birkenhead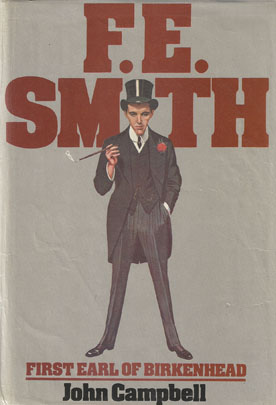 ISBN13: 9780224015967
ISBN: 0224015966
Published: June 1983
Publisher: Jonathan Cape
Country of Publication: UK
Format: Hardback
Price: £98.00
(Second Hand)

Out of Print
F.E.Smith was the most brilliant political personality to emerge in the Edwardian era. Beaverbrook called him simply 'the cleverest man in the kingdom'.
Coming from a modest provincial background, he acquired an extraordinary reputation at Oxford and an unprecedented fortune at the Liverpool Bar before exploding into the House of Commons in 1906 with the most famous maiden speech ever delivered there. For the next twenty years he engaged vigorously in some of the most bitter political battles of modern times, largely over issues that still beset us today.
Unashamedly ambitious, endowed with a cutting tongue and an inexhaustible appetite for life and pleasure, Smith assumed by sheer force of personality a leading role in the Tories' opposition to Lloyd George's 'People's Budget' and the curbing of the power of the House of Lords in the constitutional crisis of 1910-11.
Reflecting the Orange tradition of his Liverpool constituents, in which he himself was brought up, he went to the very brink of treason in supporting, with Sir Edward Carson, Ulster's resistance to Irish Home Rule. Yet all the time he maintained the closest cross-party friendships with leading Liberals, most notably with his fellow-adventurer Winston Churchill, with whom in 1910he founded the celebrated 'Other Club'.
After an inglorious spell as a wartime Press Censor and a comfortable interlude at the Front, Smith achieved a new notoriety - as Attorney-General in Asquith's Coalition - with the prosecution of Sir Roger Casement. Lloyd George outraged legal opinion at the end of the war by appointing him (then only forty-six) the youngest Lord Chancellor since Judge Jeffreys.
Taking the title Lord Birkenhead, Smith astonished his detractors by proving one of the greatest Lord Chancellors of the century, displaying a wisdom, erudition and statesmanship hitherto unsuspected. His finest hour came when he defied his past associates and sacrificed all hope of leading the Tory Party by negotiating and then staunchly defending the 1921 Treaty with Sinn Fein which recognized the independence of the South of Ireland.
He spent two years in the wilderness before returning to government as Secretary of State for India under Baldwin in I 924 and becoming closely involved in the defeat of the General Strike. In 1928 he retired from politics to try to earn in the City enough money to keep himself in the extravagant style to which he was accustomed. Two years later he died, exhausted at the age of fifty-eight.
In this, the first fully researched and independent biography of Lord Birkenhead, John Campbell uncovers much that is new and punctures many of the myths that still attach to those magic initials 'F.E.' Readers will quickly appreciate why John Buchan likened Birkenhead to Aristotle's 'Magnificent Man', and George Dangerfield called him 'without question the most fascinating creature of his times'.
The definitive biography , .. a landmark in every sense, tells the adventure from begin¬ning to end and a bit beyond. The pace never slackens and each episode is handled with unfailing assurance. Stephen Koss, The Times Literary Supplement
A triumph of scholarship, judgement, lucidity and art; like its subject it is leisurely, feline and very, very clever . . . a study that is distinguished on every scholarly level. Roy Foster, Guardian
This is a model biography, combining scholarship and sympathy ... not a single page is dull. A.J .P. Taylor, Observer
'His control of his material is absolute. He writes with both power and detachment ... F.E. Smith establishes Dr Campbell in the first rank of modern political historians ... a tour de force. The Economist
'What a joy to find a young scholar producing over- 800 pages of trenchant and. often vivid prose ... his manner triumphantly sustains his matter. The Times