F.E. Smith: First Earl of Birkenhead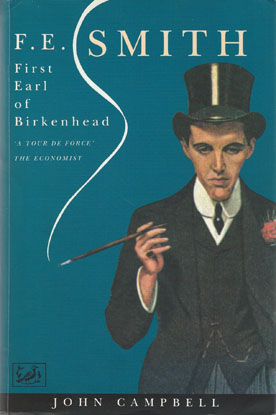 ISBN13: 9780712651172
ISBN: 0712651179
Published: June 1991
Publisher: Pimlico
Country of Publication: UK
Format: Paperback
Price: £40.00
(Second Hand)

Out of Print
F. E. Smith was the most brilliant political personality of the Edwardian era. 'The cleverest man in the kingdom' said Beaverbrook. Coming from a modest provincial background, he acquired an extraordinary reputation at Oxford and an unprecedented fortune at the Liverpool Bar before exploding into the House of Commons in 1906 with a maiden speech of unrivalled audacity.
For the next twenty years - notably as the youngest Lord Chancellor since Judge Jeffreys - he engaged in some of the most bitter political battles of modern times, often over issues that still beset us today: Ulster, trade union reform, the House of Lords. His finest hour came when he sacrificed all hope of leading the Tory Party by negotiating and then staunchly defending the 1921 Treaty with Sinn Fein which recognised the independence of the South of Ireland.
Ambitious, courageous, with a cutting tongue and an inexhaustible appetite for life and pleasure, Smith emerges from this triumphant biography as a magnificent and hugely compelling figure.
A joy ... 800 pages of trenchant and often vivid prose. Piers Brendon, The Times
A model biography, combining scholarship and warm sympathy ... Not a single page is dull. A.J.P Taylor, Observer
The definitive biography ... shrewd and stimulating ... a landmark in every sense. Stephen Koss, The Times Literary Supplement
Front jacket : Spy' Cartoon Vanity Fair, 1907