The Political Determinants of Corporate Governance in China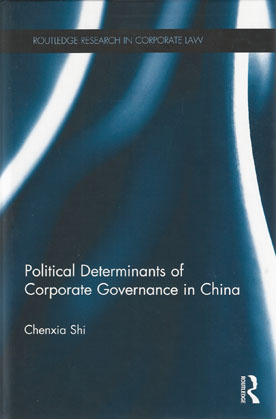 ISBN13: 9780415574013
Published: March 2012
Publisher: Routledge
Country of Publication: UK
Format: Hardback
Price: £90.00

Despatched in 4 to 6 days.
Corporate governance is currently an issue of both theoretical and practical significance in China, as it affects the development of China's securities market and market players as well as China's participation in the economic globalization and the world's legal order. In recent years China has taken initiatives to follow international trends to develop its corporate governance regime.
This book investigates the key factors shaping corporate governance in China and examine whether the path dependency stands in the way of substantial convergence with international models. The core question underlying this investigation is: will globalisation of markets and China's integration into the world economy lead to the convergence of its corporate governance with international models or will path dependency shaped by its political traditions dictate a unique China path?
The book also looks at whether transplanted rules on directors' duties are effective in enhancing accountability of directors of Chinese companies. To answer these questions, both historical and comparative methods are used to examine and explain exogenous and endogenous factors shaping the path of corporate governance in China.
The book examines the underlying factors shaping business regulation and corporate governance in China, including political imperatives, the traditional commercial culture, corporate legislative developments, and the evolution of corporate governance systems within China's political economy contexts. It explains why the political economy theory and path dependence theory have a better fit than most other theories in explaining the development path of Chinese corporate governance. In doing so, it challenges the relevance of convergence explanations for legal transplantation that have been developed in European and North American contexts.