Progressive Corporate Governance for the 21st Century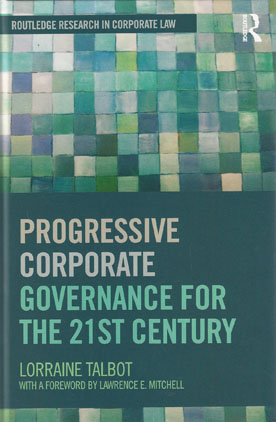 ISBN13: 9781138805200
Published: June 2014
Publisher: Routledge
Country of Publication: UK
Format: Paperback (Hardback in 2012)
Price: £34.99

Despatched in 7 to 9 days.
Progressive Comparative Corporate Governance is a wide ranging and ambitious study of why corporate governance is in the shape that it is, and how it can be improved.
The book sets out the emergence of a shareholder primacy orientated corporate governance using a study of historical development in the United Kingdom and the United States. Talbot sees shareholder primacy as a political choice made by governments, not a "natural" feature of the inevitable market.
She describes the periods of progressive corporate governance which governments adopted in the middle of the twentieth century with a close examination of the theories of the company which then prevailed. She critically examines the rise of neoliberal theories on the company and corporate governance and argues that their approach and impact is socially regressive.
In examining contemporary corporate governance she shows how the form of governance, as informed and described by prevailing regulatory theories, enables neoliberal outcomes. She illustrates how United Kingdom-derived corporate governance codes have had global influence, constructing the corporate governance initiatives of European and global institutions.
She argues that the form of the Codes enables a neoliberal agenda to proliferate with negative social consequences. After illustrating how ex-command economies were earlier subjected to failed and destructive neoliberal proscriptions for transition she shows how neoliberalism has re-entered these economies through United Kingdom and OECD inspired corporate governance Codes.
The book concludes with suggestions for new approaches to corporate governance which would make the company work for the people, rather than the shareholder