Improving International Investment Agreements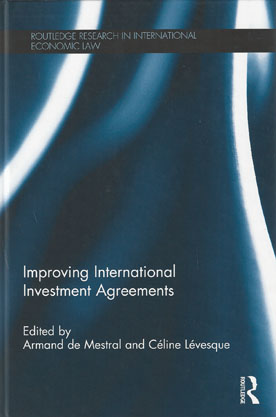 ISBN13: 9780415671972
Published: November 2012
Publisher: Routledge
Country of Publication: UK
Format: Hardback
Price: £90.00

Despatched in 3 to 5 days.
In recent years, the world has witnessed the coming of age of international investment law. The numbers are telling with over 2600 bilateral investment treaties, over 462 free trade, customs unions and other economic partnership agreements notified to the WTO, with 276 being in force, an increasing number of which include investment chapters, and over 350 known investor-State treaty-based arbitrations.
This phenomenon has not left many untouched as over 175 States have signed international investment agreements (IIAs) and at least 81 governments have faced investment treaty arbitrations. The regime, however, has not been without criticisms. The main criticisms being: that IIAs do not fulfil their great bargain the promotion of investment, while they effectively protect powerful economic interests; that IIAs protect investor's rights over the public interest of the host country; that the dispute settlement system put in place by IIAs lacks legitimacy due to the fundamentally ad hoc nature of investor-State arbitration; and that the complexity and cost of the system are out of control.
This book takes stock of developments in international investment law and analyzes potential solutions to some of these criticisms from the perspective of international public policy, in negotiations, substantive obligations and dispute resolution. The book is prepared by a group of scholars and practitioners from Canada and Europe.
It takes a multidisciplinary approach to the subject, with analysis from the legal, political and economic perspectives. The first part of the book traces the evolution in IIA treaty-making and provides an evaluation from a political economy and economics perspective. The other three parts are organised around the concepts of efficiency, legitimacy and sustainability. Each contributor analyzes one or more issues of treaty negotiation, substance or dispute resolution, with the ultimate aim of improving IIA treaty-making in these respects.