FIDIC Users' Guide: A Practical Guide to the Red, Yellow, MDB Harmonised and Subcontract Books 3rd ed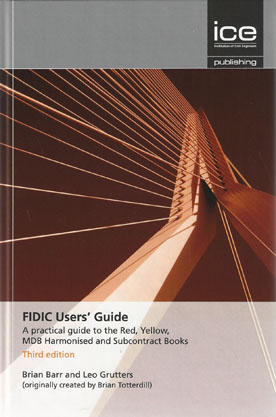 ISBN13: 9780727758569
Published: November 2013
Publisher: ICE Publishing
Country of Publication: UK
Format: Hardback
Price: £75.00

Previous editions of the FIDIC users' guide: A practical guide to the 1999 Red, Yellow, MDB Harmonised and Subcontract Books have established it as the most practicable and helpful guide available for practising contract administrators.
The new edition builds on Brian Totterdill's legacy and will ensure that all users are brought up-to-date with the most recent FIDIC developments and its expansion into a more international arena.
The new authors bring over 40 years' in-depth FIDIC experience to the book, and have revised and expanded the guide accordingly, including a more detailed section on the MDB, as well as a new section on the subcontract to the Red.
Recent case studies and experiences, and newly published forms of contract, are featured to increase knowledge, stimulate better contract administration and highlight accountability.