Dahl's Law Dictionary: Spanish-English/English-Spanish 6th ed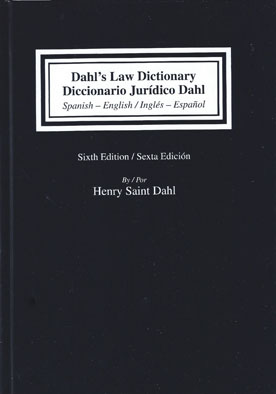 ISBN13: 9780837718934
Published: October 2015
Publisher: William S. Hein & Co Inc
Country of Publication: United States
Format: Hardback
Price: £115.00

Despatched in 9 to 11 days.
An annotated legal dictionary including authoritative definitions from - Codes, Case Law, Statutes, Legal Writing, International Treaties and Legal Opinions from Attorneys General. Now in its sixth edition, Dahl's Law Dictionary was the first bilingual dictionary containing encyclopedic definitions.
With the addition of more than 100 long definitions and nearly 400 short definitions, plus updates to exisiting material where necessary, this new edition contains about 16,000 words and phrases to aid researchers in defining legal terms in both English and Spanish.
The five basic Spanish codes (Civil, Commercial, Criminal, Civil Procedure, and Criminal Procedure)
Civil Code of Louisiana
Standard Penal Code for Latin America
Decisions from the Puerto Rico Supreme Court
The Mexican Civil Code and Labor Code also provide many definitions, while to a lesser extent sections of Costa Rican, Guatemalan, Honduran, Nicaraguan, and Panamanian texts are also cited.

On the other hand, the Spanish reader will gain knowledge of the American legal system through fundamental legal sources such as the U.S. Constitution, the Uniform Commercial Code, the Model Penal Code, the Federal Rules of Civil Procedure, the Federal Rules of Criminal Procedure, four Restatements of the Law (Conflict of Laws, Contracts, Judgments, and Torts), and decisions of the Supreme Court of Puerto Rico defining American terms.

For historical research value, Dahl has included definitions of repealed statutes when they continue to play a critical role in the laws of a particular jurisdiction. This dictionary includes a parallel table where the main entries can be located thematically instead of alphabetically.