British Immigration Practice Handbook 3rd ed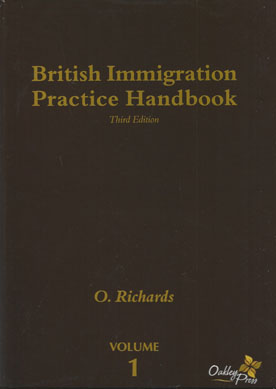 ISBN13: 9780957041233
Published: January 2014
Publisher: Oakley Press Ltd
Country of Publication: UK
Format: Hardback A4, 2 Volumes
Price: Out of print

Out of print. New edition Summer 2015
When I started this project, all I wanted to do was write a simple book anyone could pick up, read and start practicing Immigration Law. The first edition of this book was a complete sell-out. The second edition was also a complete sell-out.
This is now the book of choice for practitioners. The publishers told me that those who bought it sat and passed the Solicitors Regulatory Authority I Legal Services Commission I Law Society Immigration and Asylum Accreditation and Re-Accreditation Scheme Examinations. Others sat and passed the Office of Immigration Services Commissioner Examinations at various levels.
The publishers also told me that majority of the book were bought by Solicitors, Barristers, Legal Executives and Immigration Practitioners registered with the OISC. They currently use it for practice.
There was however no time to be carried away or get complacent by the success and positive responses generated by the first and second editions
Croatia is now a member of the EU. The 2006 EEA Regulations have been amended a few times since the second edition. The law is being tightened everywhere. Appeal rights for visitors have disappeared. The Immigration Bill is seeking to remove all appeal rights except for asylum and human rights. The Immigration Bill is taking us into untested waters. Ninety-six percent of all entrepreneur applications are refused. This is a time when every practitioner has to be on top of his game.
There are planned changes to the Immigration Rules effective from January 2014. I have taken cognisance of those planned changes in this edition. I have also included the consolidated Immigration Rules incorporating those planned changes in this edition. Tables of cases and index are included in this edition. Updates are available from www.immigrationhandbook.co.uk
This edition also includes a consolidated version of the 2006 EEA Regulations with all 2013 changes.
The First-Tier and Upper Tribunal Procedure Rules are also included in this edition.
I am indebted to Garden Court Chambers for their regular updates. This edition would not have been possible without them.
O Richards January 2014