British Immigration Practice Handbook 4th ed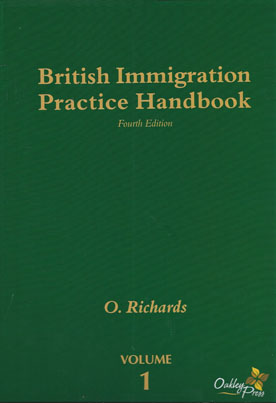 ISBN13: 9780957041288
Published: September 2015
Publisher: Oakley Press Ltd
Country of Publication: UK
Format: Hardback A4, 2 Volumes
Price: £120.00

When I started this project, all I wanted to do was write a simple book anyone could pick up, read and start practicing Immigration Law. All editions of this book have been complete sell-outs.
In deciding the right time to release a new edition, the publishers have to take into account factors like the changes to the law since the previous edition and the government's legislative agenda. I must say that in all editions the publishers have made the right call.
Since the last edition:-
Illegitimate children born to British fathers before 01 July 2006 are now entitled to registration as British citizens.
It now possible for the Secretary of State to strip a person of their citizenship even if it renders them stateless.
The rules on EEA National Jobseekers have been tightened.
Regulation 9 of the 2006 EEA Regulations has been tightened to ensure that people do not go around Appendix FM.
The Rules governing Croatians have been amended.
EX.2. has been added to EX. I.
Appendix V has replaced the myriad of visitors' categories we used to have.
Direct contact is now required for applications as parents of British citizen parents.
Rights of appeal in immigration decisions have wiped out. We now have administrative reviews instead.
Administrative review is now firmly anchored in the Immigration Rules.
Rights of appeal in ECAA cases have been replaced with administrative review.
The Rules surrounding bail rights have been tightened. In most cases the permission of the Secretary of State is now required.
People applying for limited leave to enter or remain now have to pay the NHS Surcharge.
The Courts have declared the Fast Track Regime unlawful.
The Courts have also ruled against the Legal Aid Exceptional Funding Policy as we know it. It has also been
In terms of Article 8, there is a debate whether Article 8 is still relevant in the light of Appendix FM. I would say it is. Law is more about faith than logical arguments. It takes anger, passion and a big human heart to win a case.
The case of Gulshan has been criticised by the High Court.
The rights of students to switch in-country to any other category have been seriously curtailed.
The 1999 Act has been amended to make it easy for the Secretary of State to remove people.
The 2014 Act has settled.
There are now new First-tier Tribunal and Upper Tribunal Rules.
The Morden Slavery Act 2015 is now law.
The Secretary of State's policy of deport first and appeal second is in full swing. We all know how the good Secretary of State feels about foreign national criminals.
These are some of the changes that have taken place since the 3rd edition