Know the City 2015/16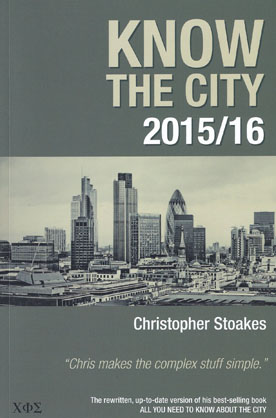 ISBN13: 9780957494657
Published: January 2015
Publisher: Christopher Stoakes Ltd
Country of Publication: UK
Format: Paperback
Price: Out of print

This book is a completely revised, rewritten and up-to-date version of the best-selling guide All You Need To Know About The City. It provides a quick and simple explanation of the financial markets and why the City of London is the leading international financial centre. It explains who the types of market participant are, the various financial instruments and transactions and the different markets in which they are dealt and traded.
It explains why interest rates and currencies change and their impact on financial markets. It explains the recent crises in global and eurozone finance. It also covers and replaces the content previously published in All You Need To Know About The City Part 2 and All You Need To Know About The Global Financial Markets.
It is aimed at anyone who needs to know about the financial markets for whatever reason, but specifically for young people who may be thinking of working in the City or are about to start their City careers,who want to know the true purpose of what they will be doing, but don't want to be seen to be asking stupid questions.It begins by looking at what happens to individuals' money when we entrust it to institutional investors. It looks at how these institutions invest our money - and in which markets - on our behalf. It looks at the intermediaries through which money is invested in the securities (shares and bonds) of issuers.
It looks at who issuers are and why they need our money.It looks at the more complex aspects of the financial markets, such as securitisation (which turns that debt into bonds) and derivatives, which are instruments and transactions derived from others. Finally it looks at the macro-economic aspects of global financial markets, international financial centres and emerging markets. It explains the banking and eurozone crises and looks at regulation.
And it does this in the same style and simple language that made the previous books so popular.