A History of the Criminal Law of England: Volume 2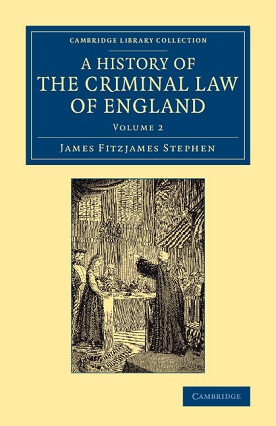 ISBN13: 9781108060738
Published: January 2014
Publisher: Cambridge University Press
Country of Publication: UK
Format: Paperback
Price: £35.99

Despatched in 7 to 9 days.
Sir James Fitzjames Stephen (1829-94) published this three-volume account of the English criminal law's historical development in 1883, four years after his appointment as a judge of the High Court. It is a revision and expansion of the second chapter in Stephen's 1863 General View (also reissued in this series). At first sight, it is ironic that the author of this classic of legal historical scholarship was himself a Benthamite who favoured and promoted the codification of the common law and worked on codes of criminal law and procedure for India and for England.
Volume 2 contains a discussion of the limits on criminal jurisdiction in respect of time, person and place; of the history of criminal responsibility; of the different categories of criminal offence (treason, felony and misdemeanour); of inchoate offences (incitements, attempts and conspiracies); and of the history of the offences against the state (treason, seditious words, libels) and offences against religion.