Kelly's Legal Precedents: 20th ed with 3rd Supplement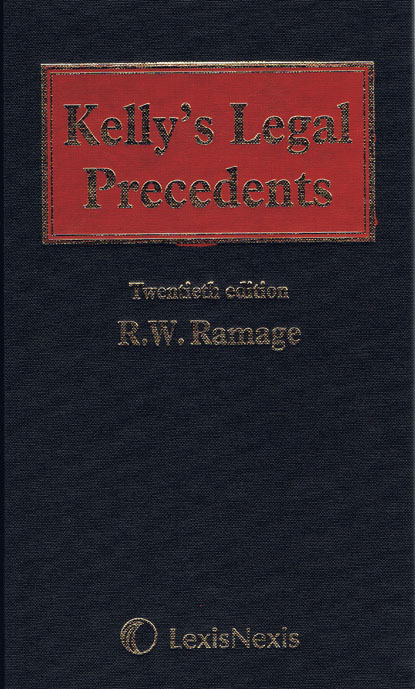 ISBN13: 9781405764155
Published: October 2012
Publisher: LexisNexis Butterworths
Country of Publication: UK
Format: Hardback, Supplement & CD-ROM
Price: Out of print

As a practical research and drafting tool Kelly's Legal Precedents (previously known as Kelly's Draftsman) is unrivalled, providing a unique collection of the main forms and precedents practitioners are likely to need in their day-to-day practice.
It is a practical research and drafting tool and covers a broad range of subjects in depth. The accompanying CD-ROM allows completion of the precedents on screen and it uses clear, straightforward language and document construction.
Using the CD, it is simple to locate the material you require, either by entering a precedent or clause number or by navigating through the contents tree. At the click of a mouse button the CD enables you to find the precedent needed, print it out or copy it to a WP document and customise it to your precise requirements - all in a fraction of the time it could otherwise take. The result is an increase in productivity and an improvement to the quality of the finished product.
The cumulative supplement to Kelly's Legal Precedents contains all updates to the main work since publication of the first supplement ensuring the 20th edition is fully up-to-date and current.
The 3rd Cumulative Supplement was published in October 2013
The 2nd Cumulative Supplement was published in October 2012
The 1st Supplemet was published in September 2011
The Main Work was published in September 2010
The new edition is up-to-date with FA 2010 and incorporate all major legislative changes since the publication of the 19th edition, including:-
Changes coming through from the Companies and Charities Acts
Employment Act 2008 (including discrimination - Equalities Bill to bring in new legislation in 2010)
New pension law (to be covered in the employment chapter to anticipate the automatic enrolment into the pension scheme from 2012
Anti-terrorism laws - inclusion of money laundering forms, employment policy statements also to be considered, as might the corporate manslaughter law
FA 2007-2010 changes impacting Trusts and family provisions