Carriage of Goods by Sea 6th ed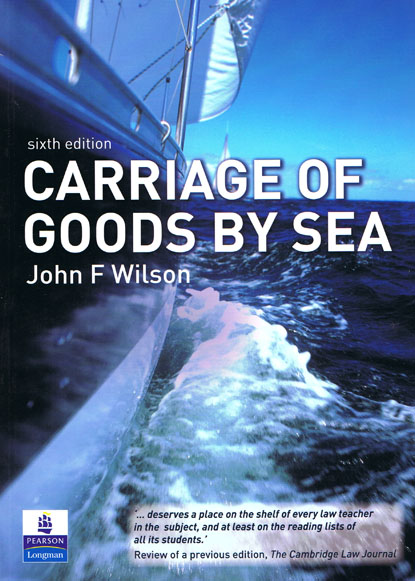 ISBN13: 9781405846691
Published: September 2007
Publisher: Pearson Education Ltd
Country of Publication: UK
Format: Paperback
Price: Out of print

Written by an expert in the field, it provides an authoritative, in-depth and critical survey of all aspects of the law relating to carriage of goods by sea. While concentrating largely on charterparties and bills of lading, attention is also given to new forms of documentation, the problems surrounding through and combined transport, and dispute resolution.
The book successfully combines a clear analysis of legal principles with sound practical considerations, allowing for a more complete treatment of the subject. The sixth edition has been brought completely up to date with the most recent case and statutory developments in this area of the law, including:-
Exploration of significant changes in the law relating to time charters, bills of lading and the remedies for breach of contract
Inclusion of new material on the progression of the CMI/UNCITRAL project for a new carriage convention
Discussion of significant recent judicial decisions, including "The Rafaela S," "Jindal Iron and Steel Co." v Islamic Solidarity, Sea Success Maritime Inc. v African Maritime Carriers Ltd., El Greco (Australia) Pty Ltd. v Mediterranean Shipping, Golden Strait Corp. v Nippon Yusen Kubishika Kaisha, Compania Sud American Vapores v "MS ER Hamburg, Lauritzencool "v "Lady Navigation Inc. "and "Transfield Shipping Inc. "v "Mercator Shipping Inc."
This text is suitable for recommendation to students on international trade law, maritime and shipping law, and carriage of goods courses. It is also an invaluable reference tool for professionals in legal firms, shipbroking and cargo insurance firms.