Carriage of Goods by Sea 7th ed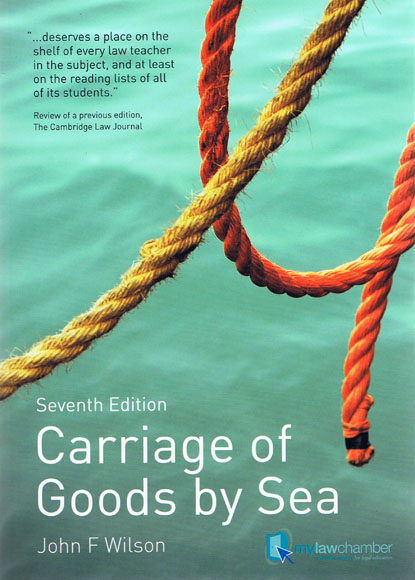 ISBN13: 9781408218938
Published: June 2010
Publisher: Pearson Education Ltd
Country of Publication: UK
Format: Paperback
Price: £56.99

Written by a leading expert in the field, Carriage of Goods by Sea is the definitive guide to all aspects of this important part of International Trade Law.
Relied upon by generations of students and practitioners alike, this market leading text is renowned for combining a critical, in-depth examination of all aspects of the law relating to the carriage of goods by sea with a highly readable written style, clear analysis of legal principles and a highly practical approach to the subject making it eminently suitable for both undergraduate and postgraduate students.
New to this edition
Carriage of Goods by Sea has been fully revised to examine all recent statutory and case law developments in the law in this area, including:-
A dedicated chapter containing full discussion of the wide ranging changes to bill of lading contracts proposed in the Rotterdam Rules
A new appendix containing the text of the Rotterdam Rules in full
Discussion of significant judicial decisions, including Transfield Shipping Inc v Mercator Shipping Inc, Mediterranean Salvage and Towage Co. v Seamar Trading, Mansell Oil v Troon Storage Tankers, Lansat Shipping Co. v Glencore Grain, Trafigura Beheer v Mediterranean Shipping Co., The Archimidis, and Fiona Trust and Holding Corp v Privalov
This text is highly suitable for recommendation to students studying international trade law, maritime and shipping law, and carriage of goods courses. It is also an invaluable source of reference for legal professionals specialising in this area, and shipbroking and cargo firms.