A History of the Foreshore and the Law Relating Thereto 3rd ed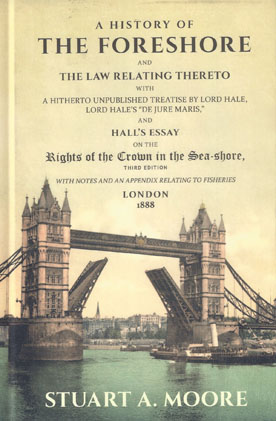 ISBN13: 9781584775928
Published: August 2017
Publisher: The Lawbook Exchange Ltd
Country of Publication: USA
Format: Hardback
Price: £105.00

A Reprint of the 3rd ed 1888. This formidably learned history of riparian rights and fishery law from 765 CE to the late nineteenth century draws on a wide range of contemporary and historical materials, including a treatise by Sir Matthew Hale [1609-1676] [De jure maris et brachiorum ejusdem].
Moore [1842-1907] argues that "the theory of the prima facie title of the Crown is a mere theory of abstract law, a theory of law 'taken for granted,' based upon an untrue assumption of a state of facts which might possibly have existed, but which is really not in accordance with the true state of the facts relating to the matter, so far as they can at present be ascertained":
Introduction. Also included in the contents of this work: Sir Matthew Hale. Narrative Legall and Historicall Touchinge the Customes.; Robert Gream Hall, Essay on the Rights of the Crown and the Privileges of the Subject in the Sea-shores of the Realm.
Reprinted 2017 by The Lawbook Exchange, Ltd.