Yeowart and Parsons on the Law of Financial Collateral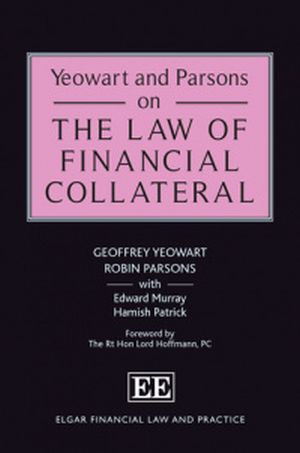 ISBN13: 9781782546313
Published: February 2016
Publisher: Edward Elgar Publishing Limited
Country of Publication: UK
Format: Hardback
Price: £225.00

As the volume of transactions in European financial markets continues to grow, the use of financial collateral, be it in the form of cash, shares, bonds or credit claims, has become a critical tool in supporting and managing risk in financial transactions.
This book is the first of its kind to offer a systematic examination of the whole law relating to financial collateral. It does so in two parts. First, it explains the law created by the Financial Collateral Arrangements (No 2) Regulations 2003, the Directive it implemented and related legislation.
Second, it examines how financial collateral is used in practice in a range of different markets. It will be an essential reference point for all legal practitioners operating in financial markets.
Key features:-
Analytical rigour combined with insight into how financial collateral works in practice, covering both English and Scots law
Valuable discussion of control and possession tests, right of use, remedy of appropriation, close-out netting and impact of 'bail-in'
Explains use of financial collateral in the derivatives market, clearing houses, direct and indirect securities holding systems and use of repos, securities lending and prime brokerage
Highlights key issues on regulatory treatment and conflicts of laws
Discusses direction of future law reform
Written by leading experts in the field.