Breaking Barriers: Promoting and Retaining Women in the Legal Profession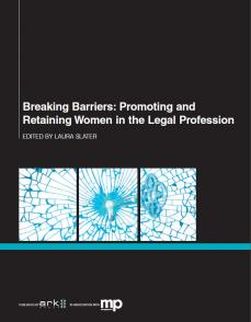 ISBN13: 9781783581535
Published: August 2014
Publisher: Ark Group
Country of Publication: UK
Format: Paperback (94 pages)
Price: £245.00

Despatched in 6 to 8 days.
For decades men and women have been graduating from law schools in almost equal numbers and yet this seems to be having little effect on the gender gap in the profession: only 9% of equity partners in the UK are women (20% in the US).
With so many talented female graduates leaving the profession or failing to achieve their potential to fill power positions, law firms and legal departments must ask themselves how they can provide an environment that enables all their lawyers with the best opportunity to advance.
What is more, women lawyers must work with each other – and with the men in their firms – to ensure that they earn their fair share of the credit for work done, and receive the pay rises and promotions they deserve.
Breaking Barriers: Promoting and Retaining Women in the Legal Profession draws on the considerable experience of successful female lawyers and law firm consultants who provide in-depth strategic guidance on the barriers to advancing women in the legal profession and the opportunities and benefits that a genuine culture of equality will have not only for individual lawyers but also for the overall success of the law firms and legal departments they work for.
This report includes expert contributions from:
Dr. Silvia Hodges Silverstein, Sky Analytics - The differences in billing rates and compensation between male and female lawyers
Jennifer Waters, National Association of Women Lawyers - The barriers women face on their way to equity partnership
Dr. Ellen Ostrow, Lawyers Life Coach - How successful women lawyers navigate their careers
Ann-Marie McGaughey, McKenna Long & Aldridge LLP - How in-house and outside counsel can help advance each other's careers
Cathy Fleming, Hodgson Russ –The business case for diversity in law firms
Ida Abbott, Ida Abbott Consulting LLC – Why men are the key to advancing Women
Lisa B. Horowitz, Attorney Talent Strategy Group - Advancing inclusion and gender parity through talent management
Marianne Trost, The Women Lawyers Coach LLC – Origination credit: Getting credit where credit is due
Patricia Gillette, Orrick, Herrington & Sutcliffe LLP - The new feminism, how it is impacting women in the legal profession
Carol Frohlinger, Negotiating Women, Inc & Margot B. Schonholtz, Willkie Farr & Gallagher LLP - The future for women and business development
Firms that can retain the best talent – regardless of gender – will outperform their competitors.