Drafting Employment Documents for Expatriates 2nd ed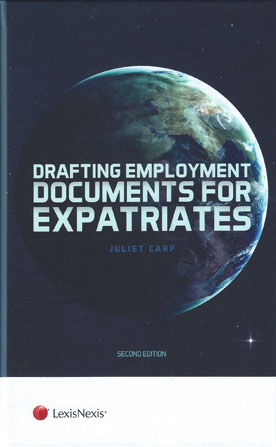 ISBN13: 9781784731724
To be Published: January 2018
Publisher: LexisNexis Butterworths
Country of Publication: UK
Format: Hardback
Price: £87.00

Globalisation of the world's economies and increasingly mobile businesses are features of modern commercial life. As a result, assignment managers, employment lawyers and other professional advisers are frequently asked to draft employment documents for mobile employees. The related issues are complex and vary considerably with the countries to and from which the employee is assigned. Mistakes can prove surprisingly expensive. This book looks at how employment documents can be used to help manage home and host country immigration, employment, pension, data protection, tax and social security considerations, particularly at the start and end of international assignments.
Written from the employer's perspective, this is the first English language textbook to provide detailed guidance for UK lawyers and assignment managers who prepare expatriate documents - and those from other countries dealing with the same issues.
Drafting Employment Documents for Expatriates highlights the issues that those drafting the employment documents will need to think about and focuses on what needs to be done practically. The book includes chapters on identifying the appropriate employer, which country's laws apply and structuring the contracts, and covers typical features of expatriate employment arrangements, such as tax equalisation, relocation and family-related benefits. Supplemented by flowcharts, checklists and sample documents this book provides detailed guidance to how to approach drafting the documents. There is also a glossary of frequently used terms to help avoid some of the misunderstandings that can arise between those from different jurisdictional or technical backgrounds.