CCH Practical Guide to the Companies Act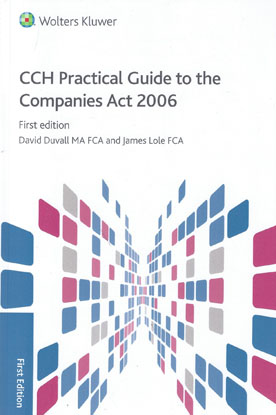 ISBN13: 9781785403392
Published: August 2017
Publisher: Croner-i
Country of Publication: UK
Format: Paperback
Price: £100.00

If you have anything to do with a United Kingdom company- starting it, running it, auditing it, investigating it, reporting on it - you need to have knowledge of, and familiarity with, company law. Written by leading experts with depth and practical experience in accounting and law, this book:-
provides a comprehensive, practical guide to company law for all people involved with forming and managing companies;
emphasises the importance ofkeeping abreast of current law and the implications of not following it; and shows how company law can provide opportunities for management as well as safeguards.
The book follows the logical order of subjects in the Act, referring to case-law and other statutes where relevant. As well as summarising those legal provisions which are most likely to be relevant to those setting up and running companies, where appropriate the guide discusses the practical opportunities available in law for companies as well as necessary restrictions.
There are links to related subjects covered in other sections, and a number of useful appendices are also included, such as model articles, details of fees, penalties and checklists.
Written in 2017, the book includes references to the most recent ICAEW guidance on realised and distributable profits (Tech 02/17BL) in relation to FRS 102.