Occupation of Iraq Volume 2: The Official Documents of the Coalition Provisional Authority and the Iraqi Governing Council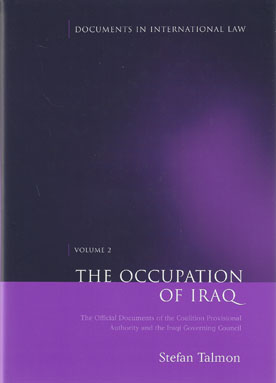 ISBN13: 9781841136424
Published: February 2013
Publisher: Hart Publishing
Country of Publication: UK
Format: Hardback,
Price: £80.00

The first volume in the Series Documents in International Law covers The Occupation of Iraq. The documents include Regulations, Orders, Memoranda and Public Notices promulgated by the occupying powers in Iraq from April 2003 to June 2004, covering criminal law, company law, copyright law, and so forth.
These laws will apply in Iraq for years to come. This collection archives these important documents for future use and makes them easily accessible to researchers and professionals. Considering that the main source of information for the occupying powers in Iraq were the precedents set during the First and Second World Wars, the occupation of Iraq will serve as a modern precedent for future administrations of occupied territory.
The volume begins with a general analytical introduction by the editor which covers the whole work of the CPA. The documents are made accessible by a list of contents and abbreviations, tables of cases and treaties, a chronology, extensive cross referencing and indexes.