OLAF at the Crossroads: Action against EU Fraud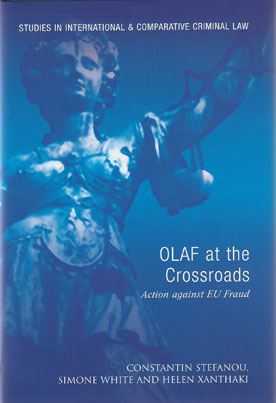 ISBN13: 9781841137919
Published: August 2011
Publisher: Hart Publishing
Country of Publication: UK
Format: Hardback
Price: £55.00

Despatched in 6 to 8 days.
The authors offer unique insight to the regulatory, operational and institutional advances of OLAF (the European Commission's Anti-Fraud Office). Since OLAF was set up in 1999, changes in the three levels of OLAF's functional environment have taken place:-
continuing advances in EU criminal law, especially in the areas of mutual assistance and substantive criminal law,
the reconstruction of Eurojust and Europol though recent Regulations and Memoranda of Cooperation,
and the prospect of the Lisbon Treaty.
The authors share the view that current OLAF's legal framework must address these issues adequately.
The approach chosen by the authors is multi-disciplinary. OLAF is examined through the prism of law and EU politics, thus focusing not only on the identification of current problems in regulation and procedure, but also on the feasibility of the institution in the future of European integration.
The book's approach is dialectic in that after the exposure of regulatory and institutional defaults, operational solutions are then discussed. Although there is little doubt that OLAF suffers from regulatory discrepancies and lacunae and from institutional inefficiencies, there is value in the argument that its staff has managed to devise operational and functional mechanisms that address some of these problems and allow the institution to proceed legitimately with its crucial role in combating fraud within the EU.
Notwithstanding the efficiency and ingenuity of its staff, the need for express rules covering procedural and operational issues - amongst others - must be safeguarded in regulation.