Interpreting TRIPS: Globalisation of Intellectual Property Rights and Access to Medicines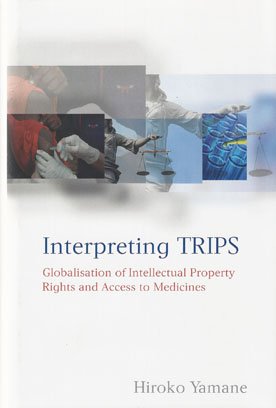 ISBN13: 9781841139531
Published: March 2011
Publisher: Hart Publishing
Country of Publication: UK
Format: Hardback
Price: £90.00

Despatched in 4 to 6 days.
Protection of Intellectual Property Rights (IPRs) has become a global issue. The Trade-Related Aspects of Intellectual Property (TRIPS) Agreement outlines the minimum standards for IPR protection for WTO members and offers a global regime for IPR protection.
However, the social costs of this regime often outweigh the benefits of IPR protection, particularly in the poorest countries, where resources for R&D and social protection are inadequate, but the cost of innovation high. Today, after more than a decade of intense debate over global IPR protection, the problems remain acute, despite limited evidence of co-operation and partnership, most notably in patent pooling and pricing in respect of AIDS drugs.
This book examines various views of the role of IPRs as incentives for innovation against the backdrop of development and the transfer of technology between globalised, knowledge-based, high technology economies. The book retraces the origins, content and interpretations of the TRIPS Agreement, including by WTO dispute settlement organs. It also analyses sources of controversy over IPRs, examining pharmaceutical industry strategies of emerging countries with different IPR policies.
The book also draws attention to the fact that TRIPS is only an agreement about principles; both the TRIPS rules and international customary rules of interpretation are flexible and a great deal depends on domestic policy objectives and their implementation. The author concludes that for governments in developing countries, as well as for their business and scientific communities, IPR protection should be supporting domestic policies for innovation and investment.
This, in turn requires re-casting the debate about TRIPS to place co-operation in global and efficient R&D at the heart of concerns over IPR protection.