Law and Regulation of Investment Management 2nd ed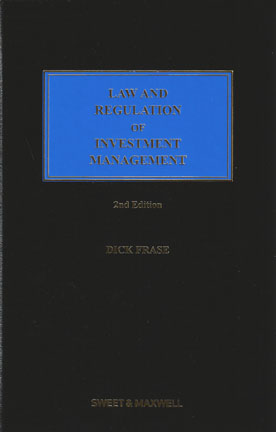 ISBN13: 9781847034878
Published: December 2011
Publisher: Sweet & Maxwell Ltd
Country of Publication: UK
Format: Hardback
Price: £389.00

Investment management is a fast-growing area of practice. The law and regulation continues to evolve around it. In a field which is so closely scrutinised, it has never been more important to ensure you have the right guidance.
Law and Regulation of Investment Management helps guide you through the regulatory and legislative maze with legal analysis and practical advice, providing a detailed understanding of this intricate area.
The comprehensive treatment of investment funds in the UK offers a detailed understanding of the nature, structure and regulation of these instruments. With MiFID in place and the resulting amendments to the FSMA and FSA rules, a firm grasp of the ramifications for practice is essential.
This new edition provides practical analysis and advice on how to gainfully adapt to these changes. Key areas covered include hedge funds, closed end funds, private equity funds and Shariah compliant investment. The author examines in detail the complex relationship between the fund manager and the investors of the fund, enabling the reader to fully understand their roles, powers and obligations.
Includes analysis of national and international case law;
Looks at the nature of the client services relationship;
Considers internal compliance and the ramifications of conflicts of interest and information barriers;
Provides and overview of key US legislation impacting on investment funds;
Covers investment management in the US, France, Germany, Luxembourg, Ireland and Hong Kong;