Visual Arts and the Law: A Handbook for Professionals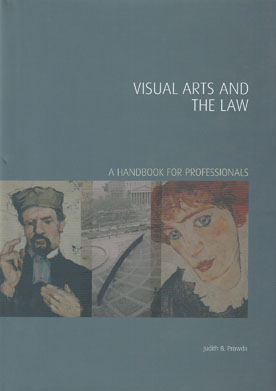 ISBN13: 9781848220867
Published: July 2013
Publisher: Lund Humphries Publishers Ltd
Country of Publication: UK
Format: Hardback
Price: £30.00

This essential handbook offers art professionals and collectors an accessible legal analysis of important principles in art law, as well as a practical guide to legal rights when creating, buying, selling and collecting art in a global market.
Although the book is international in scope, there is a particular focus on the US as a major art centre and the site of countless key international court cases. The book embraces the interdependence between legal, ethical, as well as art-historical considerations.
It addresses fundamental topics such as:-
the role of due diligence in buying and selling art;
the issues which can arise when relationships or transactions are not formalized by a written contract;
critical differences in individual nations' copyright regimes, such as moral rights and artist resale rights;
how courts analyse copyright infringement cases in visual art;
specific laws relating to auctions and the relationships among the auction house, consignor and buyer;
the balance between freedom of expression and an individual's rights of privacy and publicity;
the liabilities of expert opinions on authenticity and on the valuation of works of art; and how the statutes of limitation apply to works that have been stolen or whose legal title is otherwise challenged.
This authoritative but accessible and wide-ranging volume is essential reading for arts advisors, collectors, dealers, auction houses, museums, investors, artists, attorneys, and students of art and law.