Carter's Breach of Contract (Hart Edition)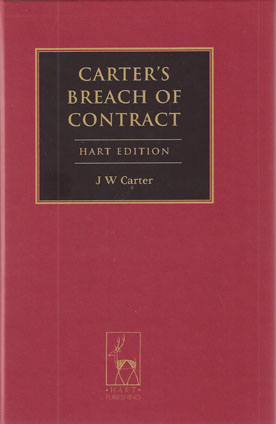 ISBN13: 9781849463751
Published: May 2012
Publisher: Hart Publishing
Country of Publication: Australia
Format: Hardback
Price: Out of print

First published in Australia by Lexis Nexis in May 2011.
J W Carter's Breach of Contract is well established as the leading text on the subject in the Commonwealth, having been cited regularly and with approval by the courts in a number of jurisdictions. This new edition, first published in Australia by Lexis Nexis in May 2011, is now published for a wider audience under the title Carter's Breach of Contract.
The work is comprehensive in relation to both English and Australian law. Moreover, by drawing on decisions in the United States, Singapore and New Zealand, the American Law Institute's Restatement of Contract, 2d as well as the Uniform Commercial Code (US) and the United Nations Convention on Contracts for the International Sale of Goods, the work has a unique comparative dimension. It will therefore be a valuable resource for scholars, practising lawyers and students of contract law.
An essential feature of the book is the statement of the law of breach of contract in a series of articles, which codify the law as a set of brief statements of principle. These articles are also reproduced in the Appendix, and together with an extensive bibliography and index and tables, make this the ideal first port of call for all questions relating to breach of contract.