Parliament: Legislation and Accountability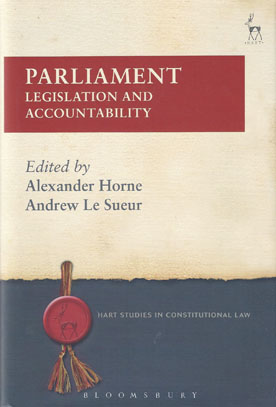 ISBN13: 9781849467162
Published: April 2016
Publisher: Hart Publishing
Country of Publication: UK
Format: Hardback
Price: £55.00

This collection of essays by leading academics, parliamentarians and parliamentary officials provides a critical assessment of the UK Parliament's two main constitutional roles – as a legislature and as the preeminent institution for calling government to account.
Both functions are undergoing change and facing new challenges. Part 1 (legislation) includes chapters on Parliament's emerging responsibilities for pre-legislative scrutiny of government bills and for evaluating proposed legislation against explicit constitutional standards.
The impact on legislation of the European Union, devolution in Scotland and the growing influence of the House of Lords are also examined. Part 2 (accountability) investigates how Parliament operates to scrutinise areas of executive action previously often shielded from effective parliamentary oversight, including: national security, war-making powers, European Union decision-making, and administrative justice.
There are also chapters on parliamentary reform, including analysis of the House of Commons 'Wright reforms' and the regulation of lobbyists.
The book will be of interest to anyone who is curious about how the law interacts with Parliament and is aimed at legal academics, practitioners and political scientists